Good Morning Magi Nation! We are so excited as we prepare for the start of the 2022-2023 school year. You can find some great back to school information on our website at
https://www.colonschools.org/o/colon/page/back-to-school
Fall Sports begin August 8th for High School Athletics. Remember you must have a physical on file with the Athletic Office our you will be unable to participate. Our open house on August 16th is fast approaching. We hope to see each and everyone of you there! Superintendent Kowalski and Coach Hattan will also be going live on Facebook today at 1:00pm to discuss amazing thing happening in Magi Nation. It's a GREAT day to be a MAGI!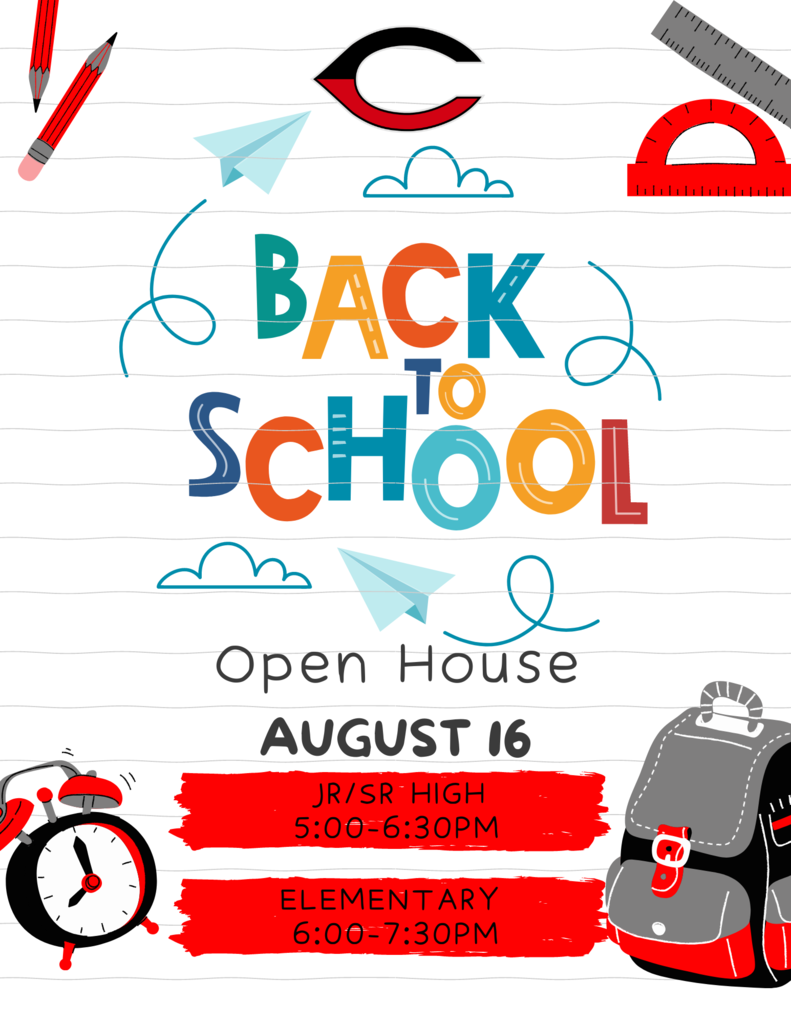 Update on Summer School: Today (July 27th) is the last day for Junior High Summer School. Tomorrow (July 28th) is the last day for High School Summer School (We are paving the parking lots) Thank you for your understanding. We can't wait to see everyone August 22nd

Colon Community Schools, Superintendent Rachel Kowalski, Elementary Principal Amanda Pegan and Jr/Sr High Principal Joe Werkema are excited to announce Jarrett Jordan as our new K-12 STEAM teacher. "Hello my name is Jarrett Jordan! I am so excited to start my teaching journey in the world of STEAM! I have 2 kids, Amelia who is 3 and Riley who is 8 months! I also have guardianship of my oldest brother Ayndru! In my free time, I love to spend time with my family, being outdoors, and weekly lunches with my brother! I currently am attending Grand Canyon University to obtain my B.S in Elementary Education. One day I would love to obtain my masters in Leadership to become a principal or even a superintendent! I am fired up to be working in the world of STEAM with your students!


Welcome to Magi Nation!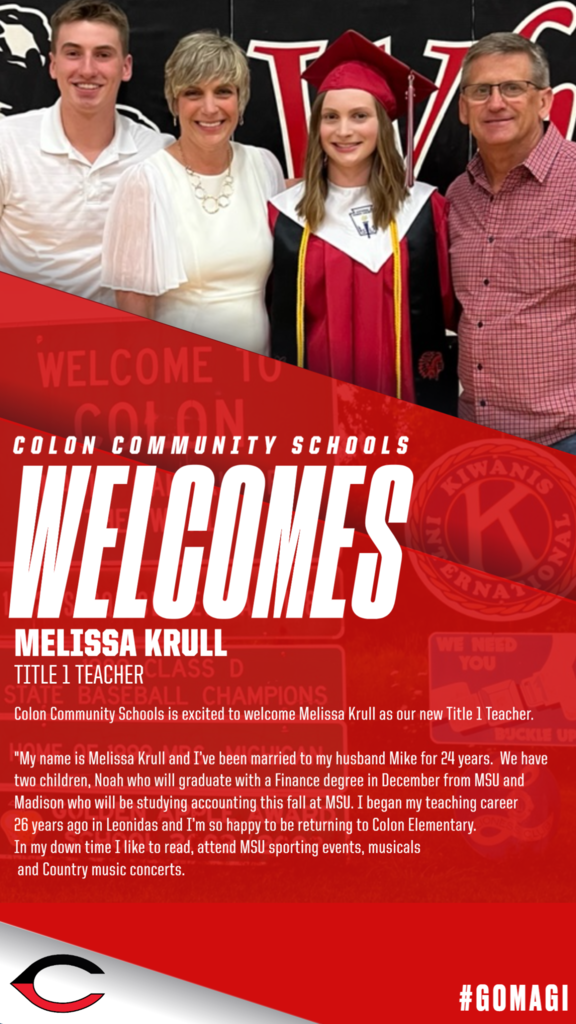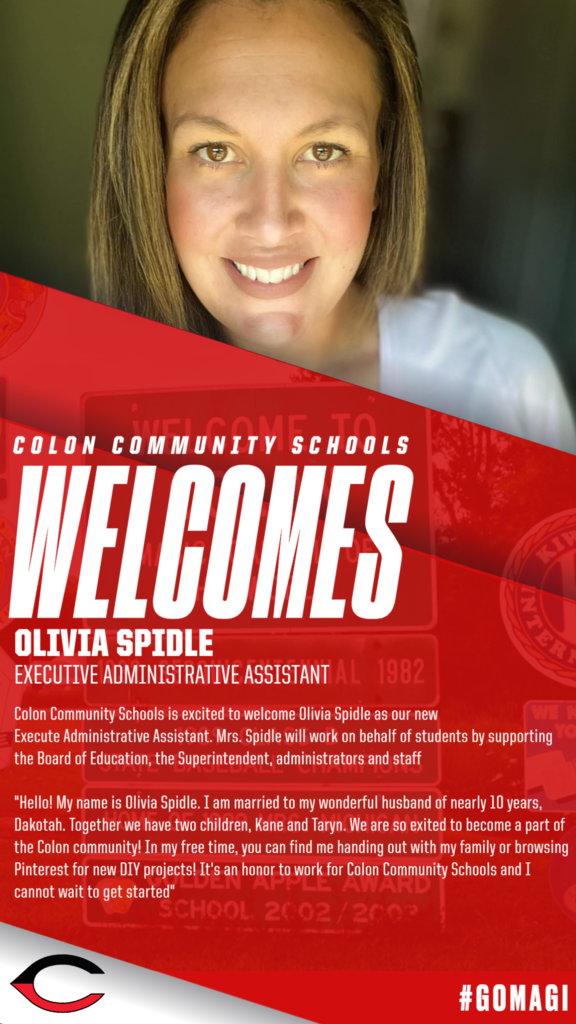 Good Morning, Summer School is canceled for tomorrow, June 21st due to the heat index. We will resume on Wednesday Thank You

Now Enrolling! School starts August 22nd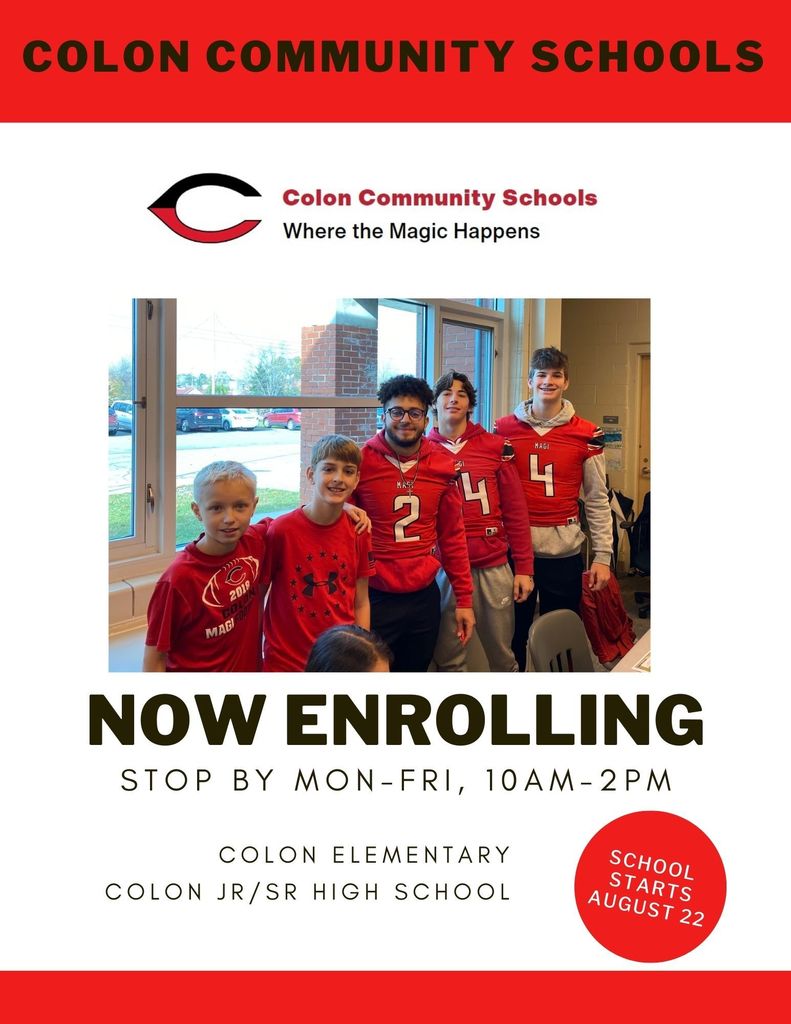 Good Afternoon, This is just a reminder that tomorrow is FREE sports physicals from 10:00-12:30 at Revolution Health in Colon. A physical is required to participate in School sponsored sports for Incoming 6th- 12th Grade students. Even if your student is not sure they want to play, please consider them getting a physical form. There are Physical files outside the High School office. Thank You

Good Afternoon, Due to the heat index Tuesday and Wednesday the following changes are being made to the summer school schedule: Colon Elementary School: Closed Tuesday and Wednesday Colon High School: Releasing at noon Tuesday and closed Wednesday. Sack lunches will be provided on Tuesday at dismissal. Thank You

Please see the attached letter from Colon Community Schools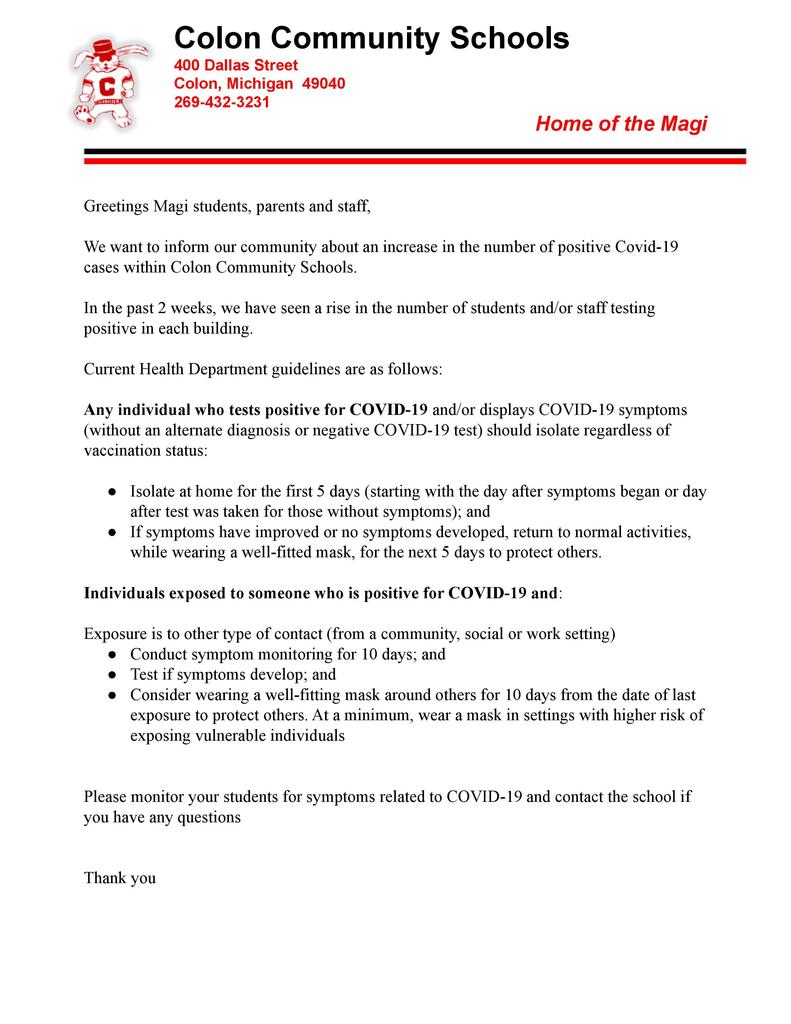 We want to know what you think about Colon Elementary School. The information from the survey will help us improve student relationships, learning conditions, and the school's overall environment. Thank you for your participation!
https://forms.gle/dyPrmUzVbSGqaJng7

Elementary Students of the Week : Left to Right: Corey Crawford, Destin Loden, Bryson Robertson, Connor Brown, Braxton Long, Braelyn Thaxton, Brooklyn Thibideau, Izabella Gibson, Koyie Gill, Addison Thibideau, Zoey Cross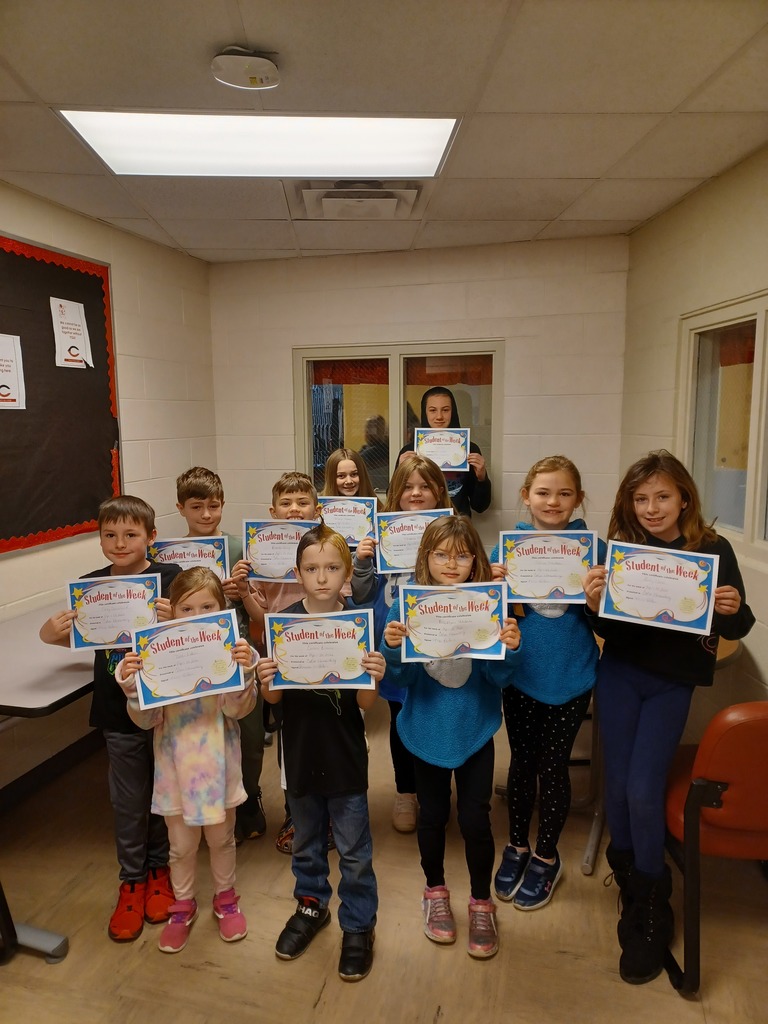 Elementary Parents- M-Step testing is coming up after Spring break.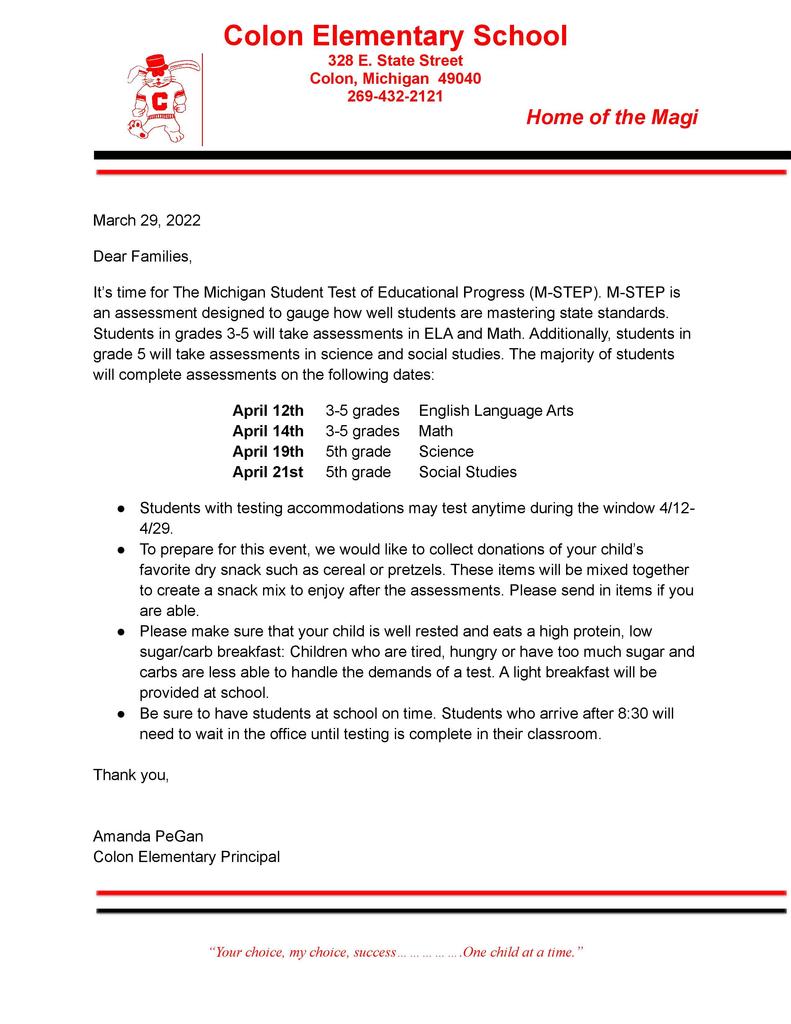 Congratulations to the Students of the Week for Colon Elementary Left to Right: Daisy Abbott, Emma Baker, RIley Prough, Caitlin Knauss, Lloyd Martin, Kynsley Wood, Lukas Sasser, Connor Wolthius, Breanna Hess Not Pictured: Oliver Greene, Bryleigh McClain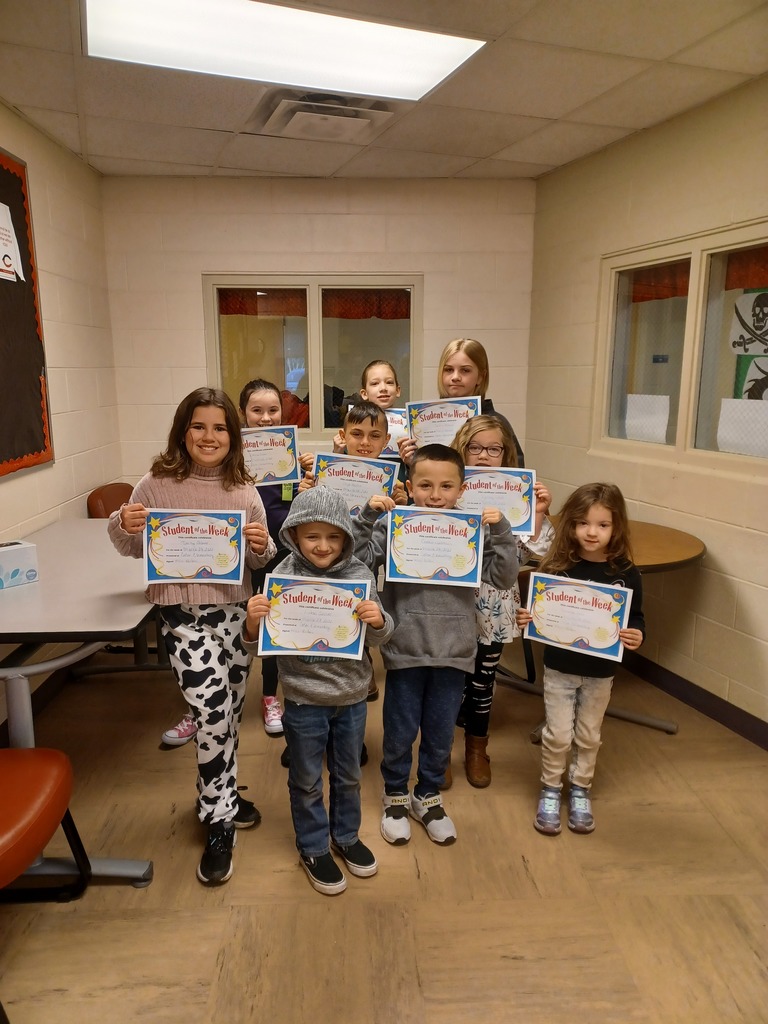 GSRP Round Up is right around the corner!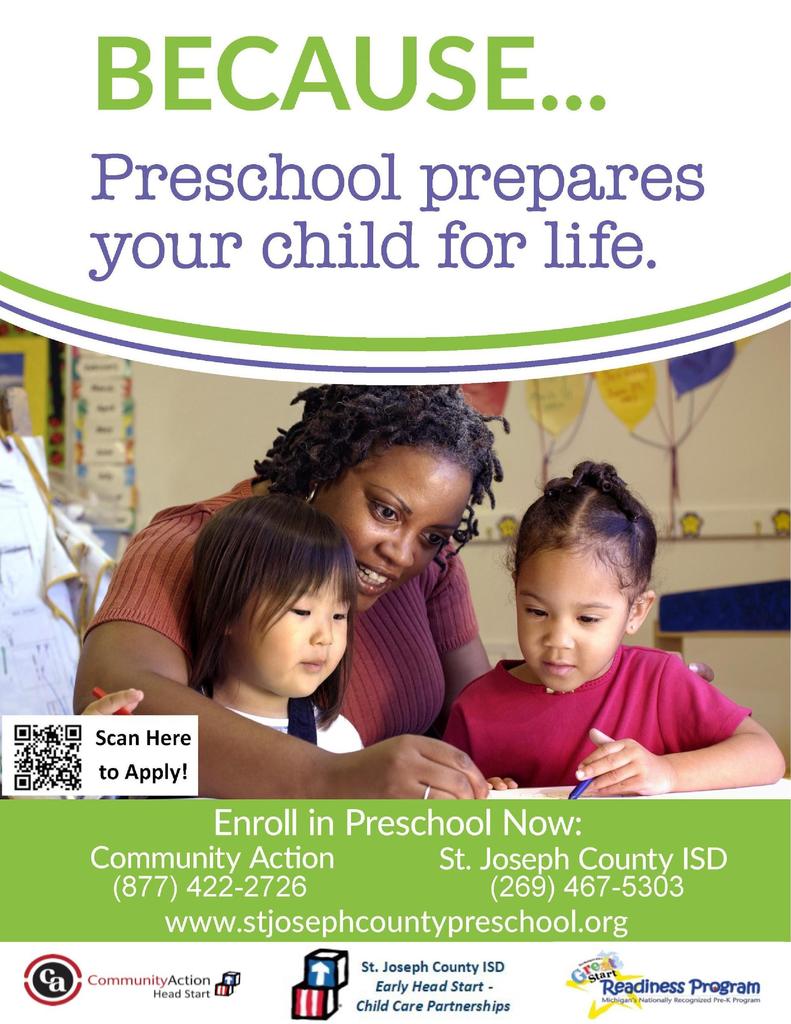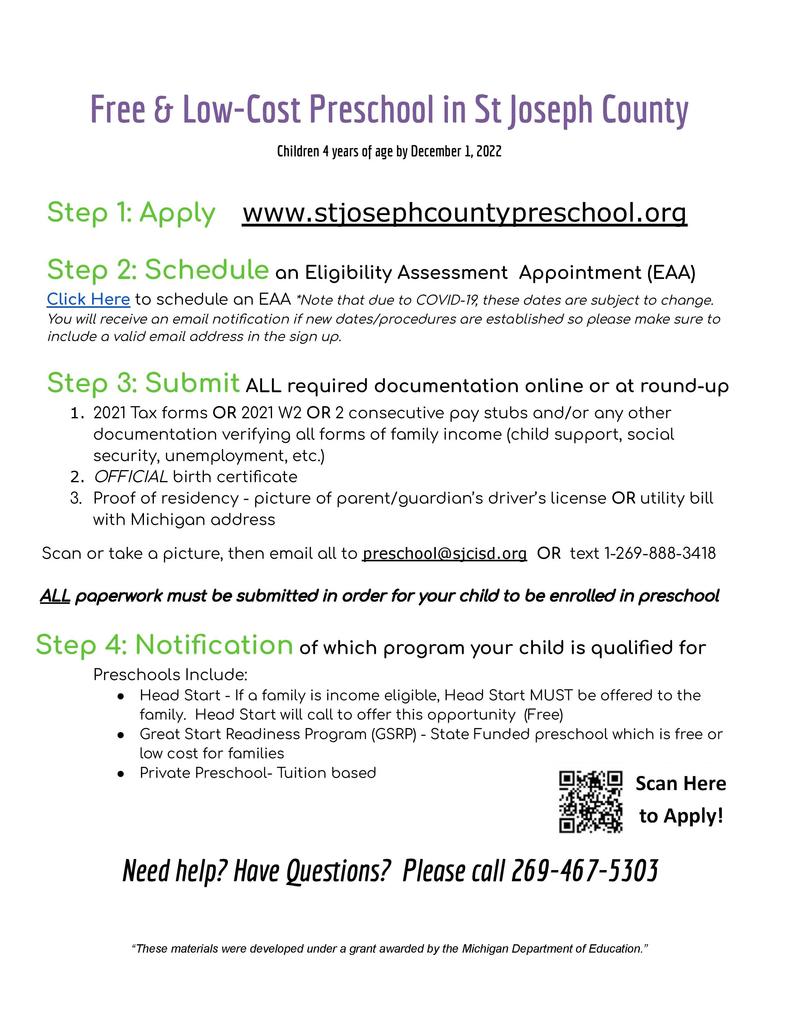 Dates for Seniors have been finalized!! Mark your Calendars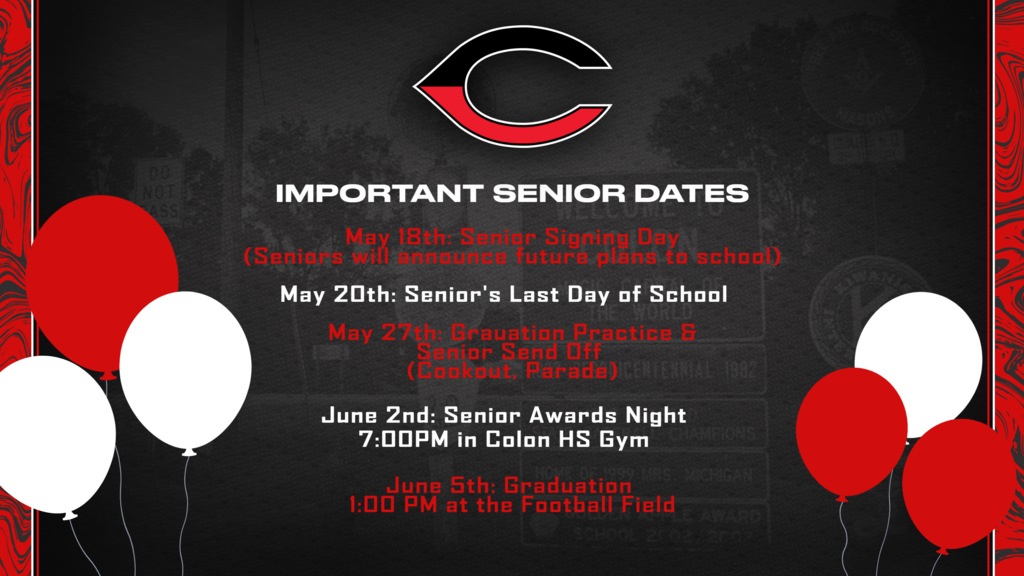 Colon Elementary students were blessed with the opportunity to have a Comedy Magic show performed by John Dudley! The kids had a blast!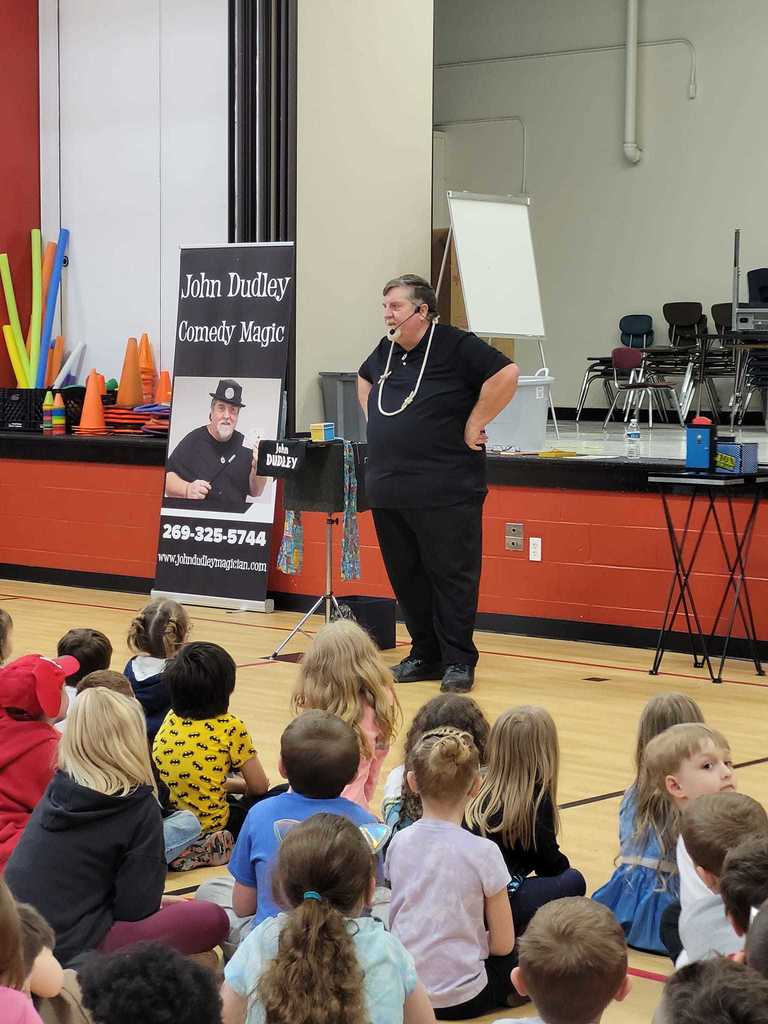 Congratulations are in order to our 5th Grade Clue me in team for taking 3rd place today! GREAT JOB MAGI!

Magi Nation- Let's celebrate our CES Students of the Week Solo Photo: Eli Stiles Group Photo: Front row left to right: Robert Porter, Hannah Porter, Jillian Casey, Aiden Anzaldua Back row left to right: Aaliyah Swope, Jain Miller, Max Fellers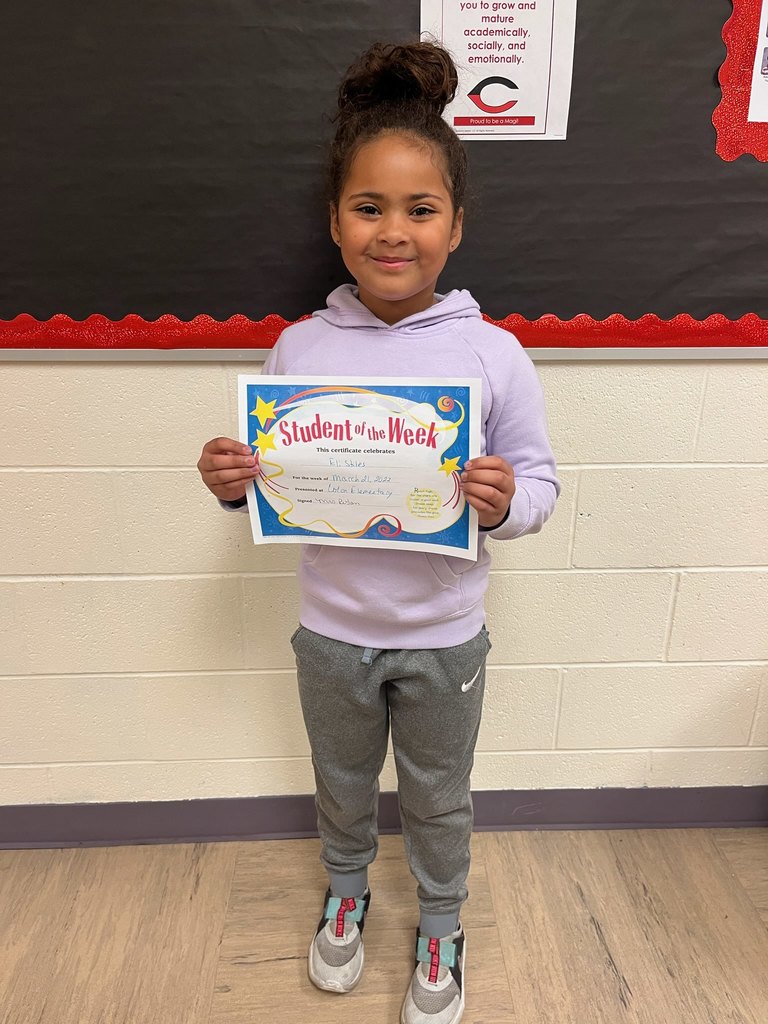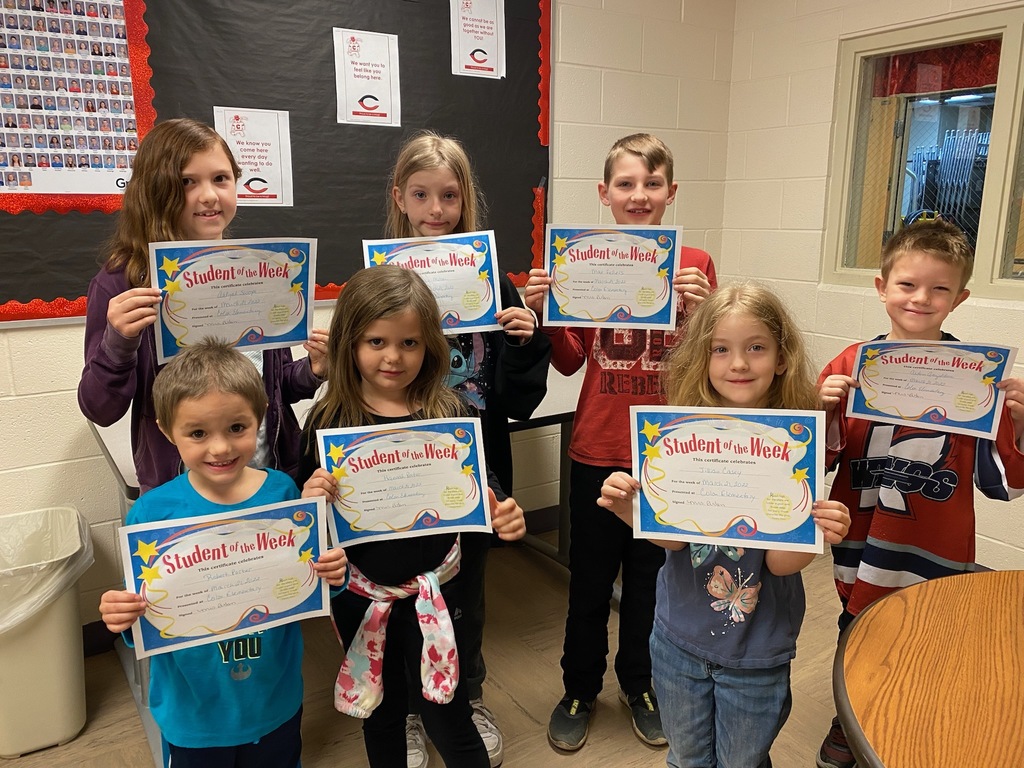 Left to Right: Oliver Fitch, Jake Walters, Aaron Bowers, Jain Miller, Caleb Meece, Adam Trevino, Wyatt Minor, Evan Stabler, and Landon Green Solo Picture: Kaydence Bohne